Dorm Energy Battle Results Are In
---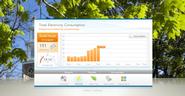 During the month of October Hamilton's 30 residence halls competed in "Do it in the Dark," a Dorm Energy Battle aimed at reducing energy consumption. Residents of Saunders, Wertimer, and 3994 Campus Road achieved the most significant changes, lowering expected kilowatt-hour use by 29.91 percent, 28.42 percent and 23.22 percent, respectively.

Members of the Hamilton Environmental Action Group (HEAG) worked with Physical Plant and Residential Life to create the competition. Physical Plant read and reported weekly energy usages for the each of the 30 residence halls.

Those with questions or suggestions regarding HEAG's methodology, promotion, or organization of the event in future semesters, should email heag@hamilton.edu or cferrara@hamilton.edu.