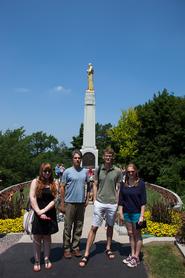 A documentary film titled "In God's House: The Religious Landscape of Utica, NY," had its first public screening in November at the American Academy of Religion meeting in San Diego. Plate was on hand to present the film and answer questions.
The film was created over the past two years under the direction of Assistant Professor of Art Rob Knight. It was produced by Visiting Associate Professor of Religious Studies Brent Plate.
Alison Ritacco '14, Hannah-Grace O'Connell '14, Shannon Boley '17, Sawyer Konys '16 and Jasmin Thomas '15 assisted through Levitt Group Research Projects.
The 50-minute film is one component of an ongoing project by Knight and Plate that examines the sacred spaces and religious life in Utica, both historically and in recent times.
Utilizing historical documents and images, and interviews with religious leaders in Utica, the film tells the stories of changes to religious communities through 200 years of immigration. The stories of the small city offer a microcosm of religious diversity and change in U.S. history.