Most people, when asked to define Dolly Parton, will probably answer "singer" or "celebrity." Few might be aware that she defines herself first as a composer, having written more than 3,000 songs, almost 500 of which have been recorded.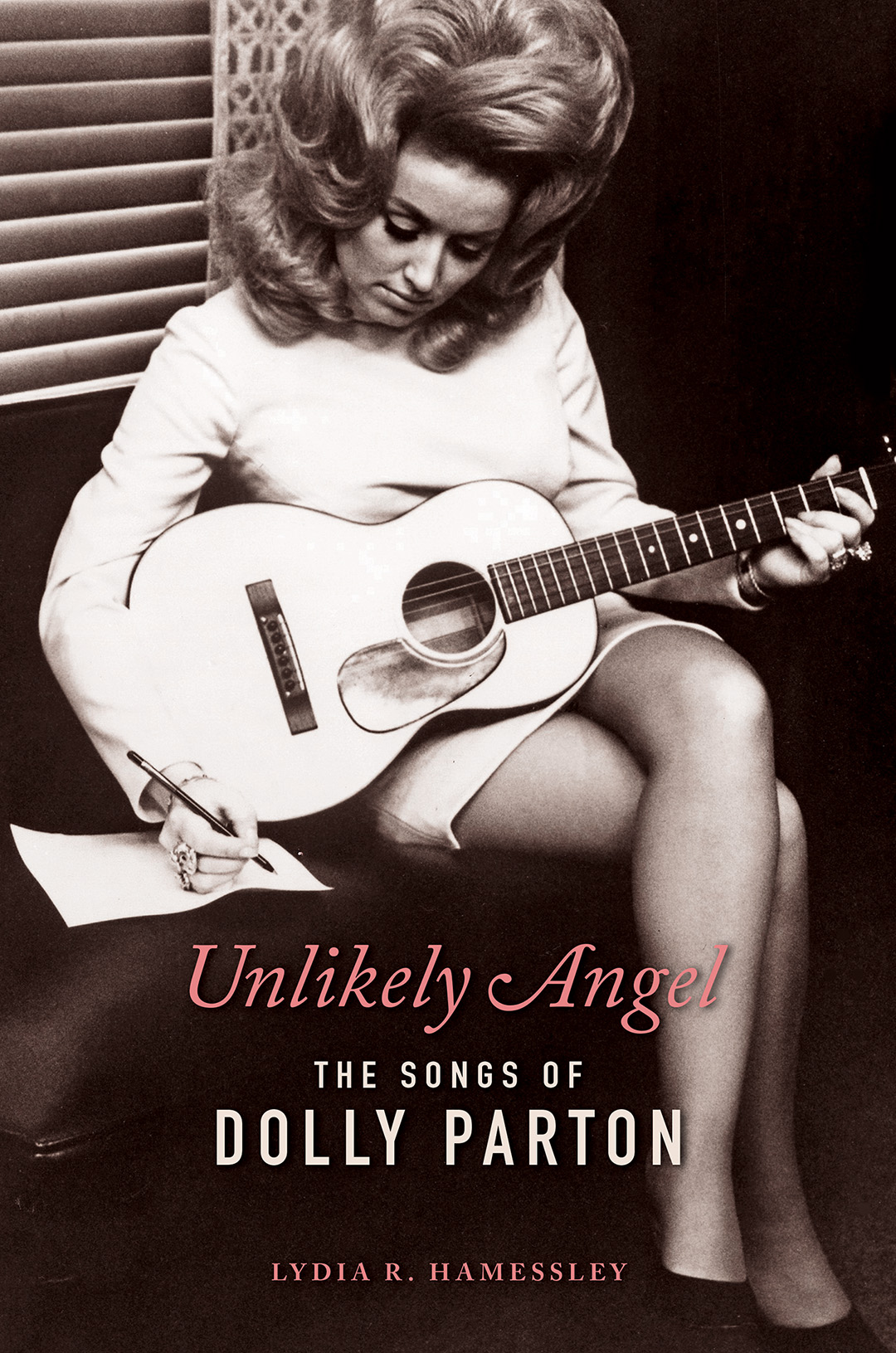 When Professor of Music Lydia Hamessley was invited by the University of Illinois Press to write a book about Parton, she wanted to focus on Parton's music rather than her image and to examine her songwriting with an emphasis on its connection to her Appalachian Mountain heritage. "The time is ripe to study her music," Hamessley says. "I want readers to unlearn this initial response to Dolly and to replace it with the thought, 'wow, Dolly is an incredible, sensitive, creative songwriter.'"
A clawhammer banjo player and scholar of Appalachian old-time and bluegrass music that focuses on women, Hamessley was the natural choice to write Unlikely Angel – The Songs of Dolly Parton. "I've loved her and her music since I was a kid, and I'm so glad I've had the chance to get to know her music so deeply. Dolly has been my daily companion now for many years."
According to the publisher, the book takes "into consideration Parton's statements about her childhood and her beliefs: her experiences of poverty, her Pentecostal upbringing, and her thoughts about women's lives and relationships. Storytelling is a hallmark of Parton's songs. This book seeks to discover what stories Parton has been most interested in telling in her music. Parton turns memory into song, and the way she transforms emotional experiences is critical to understanding her work as a gifted, sensitive songwriter."
"Parton says, despite her artificial image, she is real on the inside with a core set of values that guides her life and informs her songwriting," Hamessley says. "Her songs are the primary way she expresses her beliefs, and the book's music analyses reveal the web of resonances between Parton's songs and her ideas."
"Her magical combination of heart and genius is a most awe-inspiring thing to witness, having a beauty and delivery like no other."
In doing research for the book, Hamessley reached out to Steve Buckingham, one of Parton's producers. After determining that she was not writing a book about Dolly the celebrity, Buckingham became "extremely interested to relate ... a fascinating journey with one of the most incredibly talented artists in the world." Eventually Buckingham spoke to Parton about the book and, according to Buckingham, she wholeheartedly embraced the project and told him, "We should do anything we can to help her [Hamessley] with this."
As a result, Buckingham's input and Parton's characteristically straightforward input, recorded by the singer for Hamessley on an old cassette tape, informs Hamessley's writing. "In listening to some of Dolly's music, I could hear traces of traditional mountain music styles in her songs (even those that don't seem to be particularly Appalachian on the surface), and I was fascinated to learn more. I was able to ask her about details regarding the music she grew up hearing (fiddle and banjo tunes; ballads) … She once said that when she was growing up, all the music they heard and played — old-time, bluegrass, early country — blended together, and they just called it all mountain music."
When asked for her thoughts about the book, renowned bluegrass-country artist Alison Krauss wrote, "I'm so excited about the book Unlikely Angel: The Songs of Dolly Parton spotlighting Dolly's unmatched gift as a songwriter. … Her magical combination of heart and genius is a most awe-inspiring thing to witness, having a beauty and delivery like no other." Through this book Hamessley has definitely given her readers a sense of what a gifted and prolific songwriter Parton is.
In the same week that Unlikely Angel was published, Hamessley received another exciting bit of news. Her former clawhammer banjo student and Hamilton alumnus, Jake Blount '17, was announced winner of the Steve Martin Banjo Award honoring the instrument's "most talented practitioners, especially those with an eye toward stretching the boundaries and the perceptions of the music." Blount thanked and recognized Hamessley on his social media as his teacher.
For a Spotify list of all the songs mentioned in Unlikely Angel, visit Hamessley's website.
For a BBC documentary titled Dolly Parton: Here I Am in which Hamessley is the sole academic commentator throughout the hour and a half film, go to Netflix.
View the BBC trailer for Dolly Parton: Here I Am including comments by Hamessley.