Domack, Izzy Cannell '11 and Natalie Elking '12 Research Patagonia Energy Development
---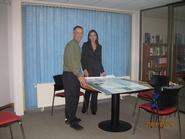 Eugene Domack, the J. W. Johnson Family Professor of Geosciences, and Hamilton students Natalie Elking '12 (geoscience) and Izzy Cannell '11, (environmental studies) are spending part of the summer in South America to fact-find issues related to energy development in Chilean Patagonia.

Domack met with Dr. Marilin Lobos Goic, director of the American Corner, at the University of Magallanes on May 29. The American Corner is a joint venture between the U. S. State Department and the Chilean Government to establish places of collaboration and educational exchange between Chilean students and citizens of the United States. Their meeting was in preparation for a talk that Domack will give at the University on June 3. Domack shared information generated by students in last semester's Global Warming class (a project on wind power poster by Carly Andrascik '11, Cuffie Winkler '10, Kristin Eugenio '11).

On Sunday, May 31, Elking, Cannell and Domack participated in a convoy (organized by a grass roots organizaton) to demonstrate against natural gas development in the Magellenes region of Patagonia. Agrupacion Molinos De Viento is a group organized to promote wind power generation in Patagonia as an alternative to expansion of oil and gas development. The convoy consisted of more than 200 vehicles and about 3,000 persons and rallied near the Plaza de Armas in central Punta Arenas.

Patagonia has the largest potential for wind power generation of anywhere in the world, with an estimate of nearly 780 – 600 W/m2 using conventional wind turbines.