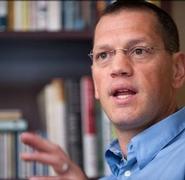 Doug Lemov '90 has been named one of the "67 Influential Educators Who Are Changing the Way We Learn in 2015" by Noodle. Lemov is joined on this list by "teachers as well as administrators, bloggers, journalists, policymakers, researchers, and activists who are transforming the education space as we know it."

Lemov is the director of Teach Like a Champion, which provides educators access to great teaching techniques. His work has been made into a book, which bears the same title as his organization. Lemov also co-authored Practice Perfect, which "illuminates the qualities that make a champion." He is currently working on a book which highlights reading and the Common Core standards. Lemov's work was highlighted in a 2010 cover story in the New York Times Magazine, Building a Better Teacher.

During his time at Hamilton, Lemov majored in English and was a member of the Men's Soccer Team and Theta Delta Chi. Lemov went on to receive an M.A. in English from Indiana University, Bloomington and an MBA from Harvard Business School. Lemov managed the New York State Uncommon Schools from 2008 to 2015 until he transitioned his focus to Teach Like a Champion.