Doug Lemov '90 Subject of New York Times Magazine Article
---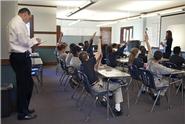 Doug Lemov '90, a former educational consultant and teacher, and now a Managing Director at Uncommon Schools, is the subject of an article in the New York Times Magazine. The article discusses the challenges facing the education system and teacher training in the United States. Helping teachers improve is a critical part of making American schools better. Remedies have been proposed, but schools continue to fail. The article highlights Lemov's experiences in America's educational system as both a teacher and a consultant, and discusses his work in studying how teachers succeed in the inner city and what makes great teachers different from the rest.

Lemov has had an impressive career in the educational sector. Prior to working at Uncommon Schools he founded School Performance, a non-profit based that provides diagnostic assessments, performance data analysis, and academic consulting to high performing charter schools. He is one of the founders and was a former principal of the Academy of the Pacific Rim Charter School in Boston, one of the highest performing urban charter schools in the United States. Lemov also served as the Vice President for Accountability at the State University of New York Charter Schools Institute, where he helped develop the system used for all charter schools in SUNY's accountability system. He serves as a Trustee of the New York Charter Schools Association and was previously on the board at KIPP Tech Valley Charter School.

Currently, Lemov works as Managing Director at Uncommon Schools, a network of 16 charter schools in the Northeast that Lemov helped found and continues to help run today. According to their website, "Uncommon Schools is a nonprofit organization that starts and manages outstanding urban and charter public schools that close the achievement gap and prepare low-income students to graduate from college." It currently manages sixteen schools in New York City, upstate New York and Newark, New Jersey. The first school to open was the North Star Academy Charter School of Newark, which opened in 1997. Despite overwhelming percentages of kids in poverty, their schools have had 98% of students pass state math tests and 88% pass state English-language arts (ELA). They were the number one ranked school in New York City for the past two years, and the school in Rochester outperformed every suburban school district on the seventh grade math and ELA tests.

Lemov graduated from Hamilton with a concentration in English literature. He was a member of the men's varsity soccer team and Theta Delta Chi. After graduating from Hamilton he went on to receive his Masters of Arts in English from Indiana University in 1997. In 2004 he received his Master of Business Administration from Harvard Business School. He recently authored the book Teach Like a Champion: 49 Techniques that Put Students on the Path to College. The book was in the top 100 on amazon.com for over forty days. He is married to Lisa Hayes Lemov '92. The couple has three children.