Doug Lemov '90 Tells How to Build a Better Teacher
---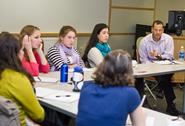 Doug Lemov '90 visited campus on Oct. 4 to speak to several of Susan Mason's education classes and give a public lecture. Lemov, who graduated from Hamilton with plans of becoming a teacher -- "I wanted to be the male version of Pat O'Neill," he said -- taught for several years at a public high school in Princeton, N.J., before deciding that he wanted to be involved in education at the highest level. After earning a master's degree from Indiana University, Lemov began to realize the inherent flaws in many education institutions and decided that, as he said, "I wanted to be a part of making education better."

After several years as the dean of students at the Academy of the Pacific Rim, a charter school founded by a fellow Hamiltonian, Stacey Boyd '91, Lemov began working on planning a system of high-performing charter schools in the Northeast that he would come to found and of which he is now managing director. In 2006, the first of the Uncommon Schools opened; there are now 24 Uncommon Schools throughout New York City, Boston and Upstate New York. In a few years, there will be 35 schools serving 30,000 students. The mission of Uncommon Schools, Lemov said, is "to close the achievement gap between rich and poor students.

"The whole problem with American public culture is that zip code is destiny, and I'm interested in the ways that schools can overcome that and give all students, regardless of their socioeconomic background, an equal opportunity to succeed," Lemov explained. "It's morally unsustainable for schools to not be good, and for there to be schools where students aren't achieving, so our goal is for all public schools to be great."

Students at Uncommon Schools are now performing significantly better than students at public schools in the same areas -- something Lemov attributes to the quality of the teachers at Uncommon Schools. Ninety percent of Uncommon Schools students are minority students; at all of the schools combined, 90 to 100 percent of the students pass their state exams. For the past two years, Uncommon Schools' elementary and middle schools were the highest-ranked public schools in New York City.

"Teaching is the hardest job in the world," Lemov said. One of the emphases of Uncommon Schools has been teacher training -- a system begun by Lemov that has led to his writing the New York Times bestselling book Teach Like a Champion: 49 Techniques that Put Students on the Path to College (Jossey-Bass, 2010). One of the methods Lemov discussed with Mason's "Ethnography of Education" class was the "Warm/Strict" technique, which simply suggests that in addition to being "no nonsense," teachers must be equally joyful in their approach to student behavior in order to succeed -- "something you learn when you're a parent," Lemov added.

Lemov was a Sidney Wertimer Fellow at Harvard Business School, where he earned a master's of business administration in 2004. Lemov was featured in a New York Times article, "Building a better teacher," (March 2, 2010). He and his wife, Lisa Hayes Lemov '92, live in Delmar, N.Y., with their three sons.