Dr. Rocco Orlando III '74 Named Chief Medical Officer at Hartford Hospital
---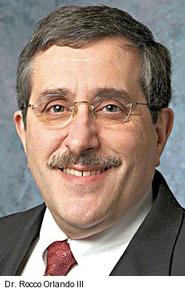 Dr. Rocco Orlando '74 was named as the first chief medical officer for regional health provider Hartford Healthcare and Hartford Hospital in Connecticut. Also named a senior vice president, Rocco will head the staff of three acute care hospitals and other specialty health care providers. His job will be to help and inspire Hartford Healthcare staff to reach national recognition in patient quality and safety. Elliot Joseph, president and CEO of Hartford Healthcare and Hartford Hospital described Dr. Orlando as "a proven leader with the talents, experience and personality to guide the clinicians of Hartford Healthcare into the future."
Dr. Orlando previously served as vice president of Connecticut Surgical Group and was a general surgeon at Hartford Hospital for almost 25 years. He is nationally recognized for research and clinical excellence and has delivered over 100 medical presentations internationally and across the U.S. He has published and contributed to more than 50 medical publications, abstracts and book chapters. Orlando is a member of several professional societies and was named as a fellow to the American College of Surgeons.
Orlando graduated from Hamilton College with concentrations in biology and history. He was a member of the Emerson Literary Society and participated in various political activities. He went on to receive his MD from the University of Connecticut in 1978. He is married to Joanne Papanek Orlando K'74 and has two sons. He currently resides in Connecticut.