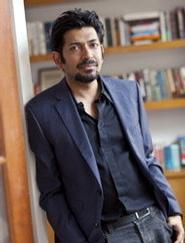 The Levitt Center on Nov. 10 hosted Dr. Siddhartha Mukherjee, a world-renowned oncologist, scientist, and writer, who gave a lecture on the history of cancer research and its most recent strides.
A native of New Delhi, India, Muhkerjee moved to the United States in the late 1980s to attend Stanford University. After graduating with a major in biology, he won a Rhodes scholarship to Oxford University, where he earned his Ph.D in immunology. He went on to earn his M.D. at Harvard Medical School, and completed his residency in internal medicine as well as an oncology fellowship at Massachusetts General Hospital. He currently serves as assistant professor of medicine at Columbia University and a staff physician at Columbia University Medical Center.
Mukherjee discussed his Pulitzer Prize-winning book, The Emperor of All Maladies: A Biography of Cancer (2010), which is currently being transformed into a PBS documentary by director Ken Burns. Called The Story of Cancer: The Emperor of All Maladies, the six-hour documentary, co-produced by Barak Goodman and Mukherjee himself, features stories from Mukherjee's book, and gives a detailed history of the medical, cultural,and social effects of cancer. "It really makes a line in the sand," Mukherjee said. "This is a project of cultural history, a project of American history, just as much as baseball is or the Civil War…" (Referencing Burns' previous TV documentaries, The Civil War (1990) and Baseball (2010)) "Cancer itself is civil war in the body."
Mukherjee began the lecture by showing a five-minute sample of the unedited documentary, before beginning his Powerpoint presentation titled "A Bird's Eye View of Cancer: Clinical Research in the 21st Century." The Powerpoint was designed to give a basic understanding of cancer and the direction in which cancer research has gone since its beginnings in the late 1800s.
Cancer, Mukherjee explained, is the world's second-largest cause of death behind heart disease, infecting 1.6 million Americans a year, and killing more than 600,000. An age-related disease, it affects people in their 60s and 70s at six to eight times the rate of those in their 30s (a particularly harmful problem in our contemporary society, in which the population is aging older and older). It is also one of the world's most ancient diseases, tracing back to the ancient Egyptian medical text, The Edwin Smith Papyrus, circa 2500 BCE.
"The basic understanding of cancer has resulted in three major discoveries," Mukherjee noted in his slideshow, "That cancer is a disease of cells, genes and genomes" (the entirety of one's genes). Citing famous cancer physicians and health activists like Dr. Rudolf Virchow (1821-1902), Dr. William Stewart Halsted (1852-1922), Dr. Sidney Farber (1903-1973), and Mary Lasker (1900-1994), Mukherjee explained how cancer has come to be seen as a much more varied, less standardized, and less specifically localized disease than original research suggested, with each individual cancer specimen composed of a unique physiology and occupying many different genes.
"Cancer is not one disease, but many," Mukherjee remarked. "Like a car that is on its own pattern, saying grow, grow, grow." He explained that two patients' cancers of the same type may be mapped completely differently—infecting different cells at different rates.
Mukherjee and his team at Columbia are thereby now looking at cancer as an organismal or "pathway disease," trying to identify not just the cells or genes it infects, but the specific pathways those genes are on. "We are in the age of targeted therapy," Mukherjee expressed, sharing one successful case in which they removed a child patient's immune system, treated it with new medicine, and injected the immune cells back into the body. "However, we cannot do this for every patient," Mukherjee said. At the end of the day, "it is better to be skeptics than optimists."
The Story of Cancer: The Emperor of All Maladies is set to air on PBS in March 2015.