Drexel's Dr. John Rich Prescribes Non-Violence for Public Health
---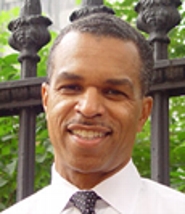 In the sense that every person has a responsibility and an obligation to contribute toward the safety of community, said Drexel public health leader Dr. John Rich, we are all involved in public health. Dr. Rich has worked to expose the post-traumatic hardships faced by young black men who have fallen victim to violence in their communities. On Jan. 20, Dr. Rich presented a lecture, "Hearing, Humanizing and Healing: Practicing Nonviolence in Public Health," as part of Hamilton's Martin Luther King, Jr. commemorative events.
Young black males are disproportionately more likely than any other demographic to be involved in violence, both as victims and perpetrators. In 2007, for example, there were 14,538 homicide deaths in the United States—51 percent of those deaths were black males. Studies show that younger black males, between the ages of 15 and 34, are at the highest risk to be a homicide victim. But homicides, while tragic, are not the exclusive violent threat to public safety; for every homicide, it is estimated that there are 94 nonfatal violent incidents.
The cyclical nature of community violence has been well-documented in the past, but a recent project by the Centers for Disease Control, the Adverse Childhood Experience (ACE) project, has illuminated some of the underlying causes of recurring violence in poor, urban areas. Members of the ACE team pinpointed a number of factors that they believe are detrimental to the emotional health of children. The ACE study found that higher exposure to adverse childhood experiences correlated strongly with diabetes, high blood pressure, obesity, and "destructive behaviors" such as smoking and being involved in teen pregnancy. The simple root of the problem, says Dr. Rich, is stress.
As a primary care physician at Boston City Hospital in 1999, Dr. Rich became curious about the struggles faced by young black males. He noticed that while there were many young black males in the hospital, he seldom had any in his clinic. He opened the Young Men's Health Clinic and began to compile information about his patients and other young male patients at the hospital. He found that 80 percent of them were uninsured and 20 percent had never seen a doctor. After hearing stories of violence on the street, Dr. Rich began to notice not only the biases that he had harbored about these individuals, but also larger injustices in the healthcare system.
Dr. Rich found that victims of violence overwhelmingly showed symptoms of post-traumatic stress disorder. They described emotional numbness, insomnia, flashbacks and the inability to feel fear. Many of Dr. Rich's patients were coping with these symptoms with alcohol and drug use. In most cases, the physical injury they suffered was not nearly as damaging as the emotional aftermath.
Dr. Rich believes that the secret to ending the cycle of violence lies in publically funded post-traumatic stress counseling for victims of violence. It is not fair, he says, to assign blame to the victims, and he criticizes the widely held notion that young black men "get themselves shot." Because incidences of homicides and nonfatal violent incidents has remained steady of late, he believes that new avenues of violence prevention should be pursued, and counseling and support groups for victims are a way to help guard against reentrance into a dangerous way of life upon release from the hospital.