Duelly Noted Completes Second Winter Tour
---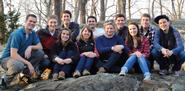 Hamilton's co-ed a capella group Duelly Noted completed its second annual concert tour over the college's winter break. Three of the performances on the four-day tri-state tour were held in the hometowns of current Duelly Noted members: Queensbury High School in Queensbury, N.Y., home of Madison Malone Kircher '14; Newtown Congregational Church in Newtown, Conn., home of Andrew Nichols '14; and Our Lady of the Magnificat Church in Kinnelon, N.J., home of Mackenzie Leavenworth '15. The group also performed in a Friday evening a cappella concert for students at Union College in Schenectady, N.Y.
Other Duelly Noted members are Sarah Andrus '12, Michael Breslin '13, Ryan Dorey '15, Annie Hudson '12, Gabe Mollica '14, Will Robertson '14, Andrew Robinson 12, Jacob Taylor '14, Maggie Whalen '14, Robby Wittner '13 and Andrea Wrobel '13.
Each hour-long concert highlighted a range of vocal styles and fun choreography. Duelly Noted's diverse repertoire often features many "oldies" including "Why Do Fools Fall In Love," "The Way You Look Tonight," and "Who Loves You" as well as Disney classics "Can You Feel the Love Tonight" and "Part of Your World". The set was rounded out with several pop songs including "Lay All Your Love on Me," "Thriller," and "Zombie Jamboree."
The free performances also helped raise money for local charities. Enthusiastic audiences in Newtown and Kinnelon donated a combined amount of more than $800 in cash plus several bags of canned goods to benefit their towns' food pantries.
The tour was funded by Hamilton's Student Activities office.
Duelly Noted was founded at Hamilton in the spring of 2008 by eight first-year students. The group has since grown to 16 members from each class. In its first four years, Duelly Noted has already performed in several unique venues including the streets of Venice, Italy.