Eat Green on Low Carbon Diet Day April 22
---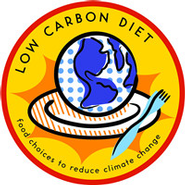 Hamilton students will have a taste of green eating this week as Bon Appétit Management Company celebrates Earth Day on April 22 by holding the third annual Low Carbon Diet Day. The first restaurant company to recognize the connection between food production and climate change, Bon Appétit will make significant menu changes on Thursday to try to teach the Hamilton community the ins and outs of sustainable eating.

As much as a third of the world's greenhouse gas emissions are tied directly to the food industry. There are environmental costs in raising agricultural products, processing foods, and shipping finished products to the market, and many of these costs are often overlooked by consumers. With every meal it is possible to reduce your carbon footprint, and Bon Appétit is committed to setting a good example on the hill.

Bon Appétit has adopted several low carbon strategies that it will operate by on April 22:
1. Moooove Away From Beef And Cheese - Turkey burgers and falafel will be served as an alternative to beef products, because the livestock industry is one of the biggest contributors of greenhouse gases. It takes 10 pounds of feed to create just one pound of beef, so naturally-grown fruits and vegetables are almost always an environmentally friendly alternative to meat or dairy products.

2. Stop Flying Fish And Fruit – Don't Buy Air-Freighted Food – When seafood and out of season produce is labeled as "fresh," that usually means it was flown, and air transportation is ten times more carbon intensive than transportation by boat. Local and in-season produce is a healthier, practical alternative.

3. If It's Processed and Packaged, Skip It – Snack foods and bottled drinks are almost never environmentally friendly. Anything packaged has usually been factory farmed and shipped long distances. Not only is packaging wasteful, but salads and home-made foods are generally healthier and tastier.

Overall, "seasonal and regional" is a mantra that Bon Appétit encourages students and faculty members to live by, and Bon Appétit General Manager Patrick Raynard is excited about the challenges that Thursday will bring. "Low Carbon Diet Day is a great way for the chefs to take menu creativity to the next level," he said. "We are passionate about this campaign and are committed to increasing our guests' awareness about the food system's contribution to climate change by helping people think more consciously about what they eat."

More information on low-carbon dieting is available at www.circleofresponsibility.com.