Eat Local Challenge is September 25
---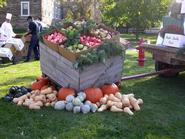 Food service provider Bon Appétit and local farmers are hosting the "Eat Local Challenge" on Tuesday, Sept. 25, at Hamilton, where all the food served at a campus-wide picnic will come from local producers. The picnic will take place on Dunham Quad from 11:30 a.m. to 2 p.m. Reuben Haag, head chef at Hamilton, says he spends time finding farmers within a 150-mile radius of campus, and deals regularly with about a dozen farmers from upstate New York. "We have dairies, cheesemakers, produce farmers, and poultry farmers we deal with consistently, and they'll be participating in our Eat Local picnic," says Haag. On the Eat Local menu are such Central New York delicacies as apple cider pulled pork, maple buttered acorn squash, tomato, basil and mozzarella salad, honey and thyme roasted chicken, and warm baked apples with oats and maple sugar.
Bon Appétit contends that buying locally produced food is not only good for the local economy but also good for the environment and students' health. According to Bon Appetit, 70 campuses will participate in variations of the "Eat Local Challenge" the last week of September, including American University, Case Western Reserve, Macalester College, Willamette University, the University of San Francisco, and Stanford's graduate business school.
Pat Raynard, general manager of Bon Appétit at Hamilton, believes the Hamilton picnic will be the biggest manifestation of any other Eat Local Challenge. "I don't know of anyone else who is closing down campus and holding a huge picnic where the farmers will be on hand," he says.