Edith Grossman Maintains "Translating is Writing"
---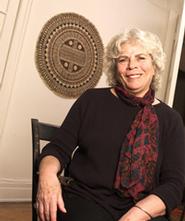 Edith Grossman, an award-winning translator, author and critic, gave the Doris M. and Ralph E. Hansmann Lecture as part of the Humanities Forum Series on Sept. 15. In her lecture, "Why Translation Matters," Grossman discussed the important role that translators play in fostering dialogue and communicating ideas across cultures.
Grossman began the lecture by telling the audience a little bit about herself. She attended the University of Pennsylvania then headed to University of California-Berkeley to do some graduate work. She eventually got her Ph.D. in Latin American literature from New York University, then spent some time in Spain on a Fulbright Scholarship before taking a teaching job in New York City.
Grossman admitted that she never had any intentions of becoming a translator. She cultivated a love for teaching, a love that persists to this day, and it was only by chance that she took up translating. Ronald Christ, a magazine editor, asked her to translate some texts from Spanish into English. Grossman found that she loved translating, mostly because she "loved digging into the text." She was so successful that she eventually made translating works into a career.
As a translator, though, she ran into several challenges and misconceptions about her job. Grossman said that she loved writing and found that, contrary to what many people think, "Whatever else translating is, it is writing." She also appreciated the artistic challenges of writing. She said, "No one delves as deeply into the text as a translator."
She stressed that words have many different meanings, and that her job as a translator was to preserve the words as well as the artistry of the language. In order to do this, Grossman had to know the intention of the writer. Interestingly, in a question following her lecture in which she was asked whether or not she had a working relationship with any of the authors, Grossman said that she did not. She explained that she grasped the intent of the words purely by analyzing the text.
Although she initially preferred translating poetry, she found that she could not live on such a meager income. She quickly switched to translating what she calls "artful prose." Grossman said that she "almost never translated anything [she] did not like." She went on to liken translating to marriage, saying that she did not recommend translating a story you do not like any more than marrying someone you do not like.
She also discussed the importance of Google in her work. She not only uses the search engine to learn out about historical figures who are referenced in books she is translating, she also uses it for the translating process itself. Grossman said that the Word Forum feature, which allows people from different cultures to explain to non-native speakers how they use certain words, is one of the most useful tools she has at her disposal.
Grossman concluded her lecture by giving the audience some advice and remarking on the importance of translators. She said that it is always important, whether you are a translator or an author, to constantly revise your work. She said, "A first draft is like your first baby, no matter what it looks like it is perfect." She suggested that the best way to do this was to read a passage out loud because "the ear will not accept what the eye will."
Grossman then discussed how important foreign ideas could be to local authors. She cited Edgar Allen Poe's impact in Latin America and rued the fact that very few foreign books are ever translated into English. Nonetheless, Grossman argued that translators would always occupy an important role in the exchange of ideas because "nothing is lost in translation. Instead, people gain from translations because translations inevitably bring an injection of new possibilities."