Eight Local Groups Share $30,000 in Grants
---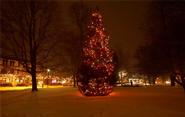 Eight local organizations have been selected to share $30,000 in grants from the Hamilton College Town-Gown Fund.

The fund targets educational, cultural and public safety organizations in the Town of Kirkland. It has now distributed more than $266,000 since grants were first made in 2001.

This year the Kirkland Art Center was awarded $6,000 to replace the windows in the dance studio, the Clinton Central School District received $4,500 for SmartTables in the elementary school, and the Clinton Fire Department was provided $4,500 for AED/Defibrillator equipment. Other grants were awarded to:
• The Clinton Central School Foundation, $3,000 for its annual campaign
• The Kirkland Police Department, $3,000 to upgrade, repair and weatherproof its speed-monitoring trailer
• The Central Oneida County Volunteer Ambulance Corps, $3,800 to implement electronic patient care reporting systems
• The Kirkland Town Library, $2,000 to purchase audio books for children and teens and furnishings for older elementary and middle school students
• The Clinton A Better Chance program, $3,200 to purchase computer software and home appliances.

"We have reached a milestone with this year's awards," said Hamilton President Joan Hinde Stewart, who also chairs the committee that selects grant recipients. "Since the program began in 2001, the fund has invested over a quarter of a million dollars in educational, public safety and other non-profit organizations in the Town of Kirkland, helping them provide our neighbors with valuable services and programs. We are delighted to make these investments in our community."

The Hamilton College Town-Gown Fund was established in 2001 by anonymous donors to foster goodwill and better communication between the college, the Town of Kirkland and the Village of Clinton. Since its founding, the endowed fund has received donations totaling nearly $1 million. Each year, income earned from investing the fund is used to make grants to organizations in the Town of Kirkland.

In addition to Stewart, members of the Town-Gown Committee include local businessmen John Fehlner of the Clinton Cider Mill and Tom Owens of ACCESS Federal Credit Union, Mayor of Clinton Gill Goering, Clinton Schools Superintendent Marie Wiles, Hamilton Professor of English Margaret Thickstun, Hamilton alumnus and Hamilton Point Investment Advisors President Andrew Burns, former Town of Kirkland Councilman Nick Venero, and Hamilton trustees Amy Owens Goodfriend and Jack Withiam. Goodfriend is a native of Clinton.

Hamilton Vice President for Communications and Development Dick Tantillo and Executive Director of Communications Mike Debraggio sit on the committee as ex officio members.