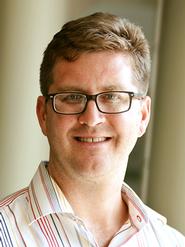 Eldevik Lectures on Vikings
Assistant Professor of History John Eldevik gave a presentation titled "Vikings to Varangians: Medieval Scandinavians and the World They Made" to the Scandinavian Club of the Mohawk Valley on Feb. 19.
The lecture offered a broad overview of the spread of Nordic settlement across Eurasia and in particular the important trade and cultural contacts forged by early Scandinavians in places like southern Russia, the Black Sea and the Byzantine Empire. The talk centered on the remarkable career of the Norwegian king Harald Hardrada, who fell at the Battle of Stamford Bridge in 1066 attempting to claim the crown of England after a long career that brought him from Norway to Novgorod to Constantinople and back again.