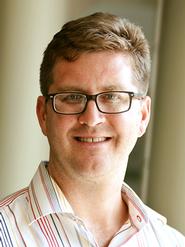 Assistant Professor of History John Eldevik has been awarded a National Endowment for the Humanities (NEH) Summer Seminar fellowship to attend the four-week program on "Reform and Renewal in Medieval Rome" in Rome, Italy, June 22-July 25.
Each summer scholar is required to work on a research project related to the program topic. Eldevik will do research in the Vatican Library on manuscripts relating to the 1119-24 papacy of Calixtus II.
While his research will fulfill the program requirement, it is also related to a larger project he is working on – his "Calixtus project."
Eldevik is researching manuscripts that contain a strange text known as the "Report of Patriarch John." The report told of an alleged event in 1122 in which a Christian bishop from India visited the papal court and told a marvelous tale of the miracles performed at the tomb of St. Thomas, the apostle who supposedly preached to the Indians.