Elgren Awarded Noyce Foundation Grant
---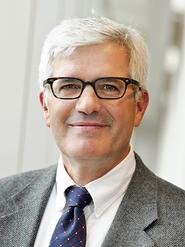 Professor of Chemistry Tim Elgren has received a grant from the Noyce Foundation administered by the National Center for Science & Civic Engagement. The objective of this three-year project is to develop research opportunities for undergraduate science students that couple analytical toxicology with public policy and civic engagement.
The partnership between the Green Science Policy Institute (GSP) and Hamilton College supported by this award enables Hamilton College undergraduate students enrolled in Elgren's Principles of Chemistry in the Context of Health and Environmental Chemistry course (Chem 125) to explore broader impacts of the analytical toxicology work that they will perform in the laboratory. The projects are focused on assessing human exposure to a number of anthropogenic toxins.
Students will work with Dr. Arlene Blum and her staff at the GSP who regularly provide unbiased scientific data to government, industry and non-governmental organizations to facilitate informed decision-making about the chemicals used in consumer products. Students will formulate an action plan to educate the campus community, decision-makers and the broader public about potential health risks associated with the consumer products they have examined.