Elgren and Amy Barrows '08 Publish in Journal of Materials Chemistry
---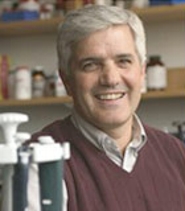 Professor of Chemistry Tim Elgren has published a paper in the Journal of Materials Chemistry with Amy Barrows '08 and co-workers from Montana State University. The paper is titled "High Level of Hydrogen Production Activity Achieved for Hydrogenase Encapsulated in Sol-Gel Material Doped with Carbon Nanotubes."

Barrows focused her Senior Fellowship research on this project. The work in Elgren's lab focuses on harnessing the catalytic power of enzymes by trapping them in solid, highly porous materials that allow the enzymes to retain their activity. One of the consequences of trapping the enzymes is that they lose a significant amount of that activity.

This paper reports conditions for encapsulating the enzyme in a material that actually slightly enhances the activity of the enzyme (compared to the activity observed in solution). The enzyme of interest, hydrogenase, catalyzes the production of hydrogen from electrons and protons. There is significant interest in hydrogen as a clean energy source.

The patent filed on this technology was the first in which Hamilton College is a co-owner of the intellectual property.