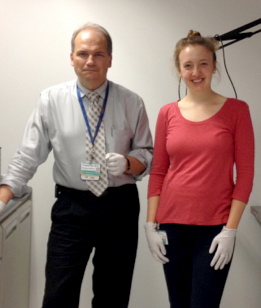 Anyone who has torn their ACL or suffers from osteoarthritis knows just how agonizing the joint pain can be. In the Emergency Medicine Laboratory of Rhode Island Hospital, researchers are working to relieve some of that pain, and keep the damage to the impacted joints minimal.
Elizabeth Larson '16, a biochemistry major, is spending her summer on the Rhode Island Hospital and Brown University campus doing research with Dr. Gregory Jay. Jay is a professor of emergency medicine and engineering at Brown University in the Department of Emergency Medicine and Division of Engineering and an attending emergency physician at Rhode Island Hospital.
Larson is assisting Jay with his work on Lubricin, the boundary lubricant in articulating joints, encoded by the gene PRG4. Interest in Lubricin has taken off in recent years due to crucial evidence in support of its importance and potential benefit for patients with osteoarthritis and joint trauma at risk to develop post-traumatic osteoarthritis. Larson said, "I had never given any thought to joint lubrication in the past, but now learning and studying how important it is and the resounding impacts it has on the body is fascinating."
Lubricin has also been found to be important for lubrication development in tissues, like the eye. This discovery has proven to be very advantageous to people with severe dry eye disease. As of now, the majority of Lubricin trials are being run on rodents and porcine with hope that in the upcoming years human trials will be successful as well.
Larson has been able to learn the ropes of what innovative research medicine entails as well as learning and contributing to the procedures for common laboratory techniques.
Larson is thrilled to be able to be given the opportunity to work in such a challenging and cutting edge area of medicine. Although unsure of exactly what she wants to study in graduate school, Larson says, "This experience has definitely opened my eyes to the different opportunities in medical research that I will consider for my graduate work."