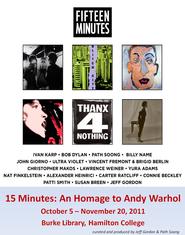 Hamilton College is the first and only college to present a new tribute exhibition to Andy Warhol, 15 Minutes: Homage to Andy Warhol. The traveling exhibition of art and sound showcases work from 18 artists whom either knew, worked with or were influenced by Andy Warhol. Among the 18 artists are Bob Dylan, Patti Smith and Ultra Violet.
An opening reception was held on Wednesday, Oct. 5, at 4 p.m. in the Burke Library Browsing Room. The reception and exhibition, which closes on Nov. 22, are free and open to the public.
Each artist has prepared a unique visual work to be displayed as a 12x12-inch silkscreen print and an original audio recording, ranging from music to spoken word poetry to abstract sound. The recordings can be heard at one of the 16 stations via individual mp3 players and headphones. Three-foot by three-foot lithographs of each of the silkscreen prints will be hung around the viewing area in the library's entry area.
15 Minutes is a production of Legacy Recordings, created with the full approval of The Andy Warhol Foundation for the Visual Arts and was organized and produced by Warhol's friend and associate Jeff Gordon and his wife Path Soong. The exhibition has also opened at the Pollock Krasner House and Study Center and the Andy Warhol Museum.
The 15 MINUTES Box, sponsored by Sony and released through Sony's Legacy Recordings, is available for sale in both Deluxe Edition and Regular Edition versions. The Deluxe box, an edition of 85, contains 16 signed and numbered silkscreen prints, three CDs, four vinyl records, and notes. The Regular box, an edition of 1,964, contains offset prints, the CDs, vinyl records, and notes.
For more information about this exhibition, go to http://www.fifteenminutesonline.com For information about Hamilton College's Burke Library, call 315-859-4481.