MacDonald's Adventures of Perception Published
---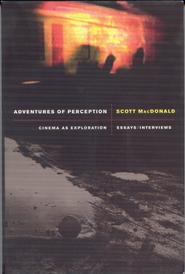 Adventures of Perception; Cinema As Exploration, a new book by Visiting Professor of Film History Scott MacDonald, has just been published by the University of California Press. Adventures includes eight essays and eight interviews.

The longest and newest essay included in the collection is "Desegregating Film History: Avant-Garde Film and Race at the Robert Flaherty Film Seminar, and Beyond." MacDonald argues that the segregation of films and filmmakers into the categories of "avant-garde cinema" and "African-American cinema" has tended to blind us to the ethnic variety of avant-garde work and the formal variety of ethnic cinemas; he pairs films and filmmakers from the two traditions to demonstrate their affinities.

The other essays in Adventures are revised versions of pieces that appeared in a variety of periodicals, including "Poetry and Cinema: Avant-Garde Film as Publication," "The Attractions of Nature in Early Cinema," "The Mohawk Valley Journey to The Journey," and "Up Close and Political: Three Short Ruminations on Nature Film." The nine interviewees include James Benning, David Gatten, Clive Holden, Peter Hutton, Gina Kim, all of whom have visited Hamilton as part of the F.I.L.M. series. The other interviewees are nature filmmakers Claude Nuridsany and Marie Perennou (Microcosmos), videomaker George Kuchar and Karen Cooper, director of New York's Film Forum.