Alpinist Magazine Features Isserman Story of Everest Climb
---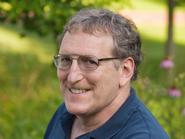 "MAD, ILL-EQUIPPED AND ADMIRABLE: EVEREST 1962," an article written by Publius Virgilius Rogers Professor of American History Maurice Isserman appearing in Alpinist magazine, tells the story of an American-Swiss team of four climbers who attempted to climb Mt. Everest from the north side. Isserman wrote about the climbers' adventures, from their initial planning to their illegal entry into Tibet and their near-fatal accidents which ultimately caused them to turn back.
The article, appearing in Alpinist 41, concludes with, "In the Four Against Everest expedition, four hardy souls, not quite knowing what they were doing, made their way through a vast isolated mountainscape at once beautiful and treacherous, in pursuit of a personal dream of accomplishment and transcendence. As Hans-Peter Duttle reflects, 'In 1962 we simply wanted to go our own way, not asking anybody and not wanting to harm anybody.' Words to live—and to climb—by."
Alpinist is a quarterly publication dedicated to world alpinism and adventure climbing. Isserman is the author of Fallen Giants: A History of Himalayan Mountaineering from the Age of Empire to the Age of Extreme.