Chicago Sun-Times Features Weir '12 and Wu NFL Draft Study
---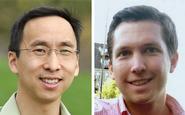 The Chicago Sun-Times featured alumnus Kendall Weir '12 and Professor of Economics Stephen Wu's study, "The Effects of Character on NFL Draft Status and Subsequent Performance," in an article discussing the upcoming National Football League draft and the prospects of Notre Dame linebacker Mante Te'o. In "Draft Manti Te'o? Bears should take him or leave him" published on April 25, the study results were applied to an analysis of Te'o's possible value to an NFL team.
Weir and Wu examined the playing records for the 2011-12 season of 1,200 players who were drafted by the National Football League between 2005 and 2009. They compared these records with the players' "character issues." The study will be published this year in The Journal of Sports Economics. Last year it was featured in an Associated Press article, on the public radio-syndicated Only a Game program and by hundreds of other media outlets.
The Chicago Sun-Times article summarizes the study with this statement: "It means your standard-issue GM [general manager] probably smiles at the opportunity to get a talented, flawed human being at a bargain price."
New Jersey's largest news website, NJ.com, also devoted a column to the research. Titled "NFL Draft study says it's worth the risk to take players with baggage," the article was written by sports reporter Mike Vorkunov of the The Star-Ledger (Newark, N.J.).