The Christian Science Monitor Quotes Walker on Egypt
---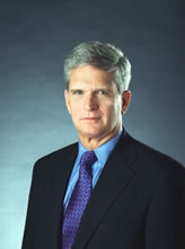 On the eve of Secretary of State Hillary Rodham Clinton's meeting with Egypt's first freely-elected president this weekend, Edward "Ned" Walker '62, the Christian A. Johnson Distinguished Professor of Global Political Theory and former ambassador to Egypt and Israel, spoke with a reporter from The Christian Science Monitor. The resulting article, "Hillary Clinton to meet Egypt's new president: what is at stake" published on July 14, quoted Walker extensively.
Referring to President Mohammed Morsi, of the Muslim Brotherhood, Walker said, "This was never our favorite result, but on the other hand Secretary Clinton has been at the forefront of our urging Egypt towards democracy, so it would be hard to say now that we aren't going to recognize the democratic result … I think she understands we have to get [a problematic history with the Muslim Brotherhood] behind us, and see how we can move forward."
Addressing Egypt's internal political turnoil, he said, "There's no question she'll be visiting with things in a very confused status, she'll have to be very careful how she handles her approach so that she doesn't appear to be taking sides … But at the same time Clinton should be encouraged by how the vying powers have addressed their differences so far.
"The Egyptians seem to be able to work these things out themselves, this is not a violent confrontation."
Other recent media coverage that have included Walker's comments include:
CNN: http://transcripts.cnn.com/TRANSCRIPTS/1206/24/sotu.02.html
The New York Times: http://www.nytimes.com/2012/06/25/world/white-house-relieved-over-egypt-announcement.html?_r=2&pagewanted=all
Newsweek: http://www.thedailybeast.com/newsweek/2011/06/12/how-the-arab-spring-has-weakened-u-s-intelligence.html