Chronicle of Higher Ed and The New York Times Focus on Hamilton
---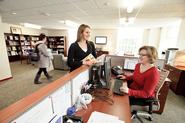 The College's First Year Forward (FYF) program was the focus of an article published on May 13 in The Chronicle of Higher Education titled "'Little Tricks' Help Disadvantaged Students Plot Career Paths." Reporter Beckie Supiano described the pilot program which was developed this year by the admission and career center offices.
In interviews for the article, several Hamilton student participants relayed their experiences learning about methods to explore their interests and skills, set up informational interviews and find summer internships or job-shadowing opportunities. Reflecting the philosophy of the career center, this program focuses on developing transferable skills for the pursuit of any career goal, according to Janine Oliver, FYF co-director with Leslie Bell.
The New York Times also focused on Hamilton in a Sunday, May 12, front-page article titled "On a College Waiting List? Sending Cookies Isn't Going to Help." The piece described the right and wrong ways in which to react to finding oneself on a college's wait list. Dean of Admission Monica Inzer related some of the responses she had received from wait listed students and their parents.
On Friday, May 10, Oral Communications Center Coordinator James Helmer got the last word in a Baltimore Sun article titled "Commencement speakers strive to inspire, entertain." "One way to be memorable is to be original, but not so original that you get into trouble," said Helmer.