Entrepreneur Magazine Features Student Business
---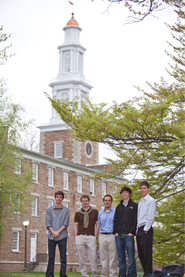 The April issue of Entrepreneur magazine features a full-page story on Hillfresh Laundry, the Hamilton-based laundry service founded by Jeremy Young '13 and Faton Begolli '13. "Pressing Business," appearing in the College Startup section of the magazine, chronicles the development of the business from the first meeting of the college's Entrepreneur Club in 2010 that inspired Young to Hillfresh's financial success and growth today.
As a result of the Entrepreneur magazine article, Tekkek, an original news syndicate that reports on entrepreneurial trends and web-based businesses, published its own article on Hillfresh.
Young is developing a succession plan for the business for implementation after he graduates. He is also pursuing the possibility of licensing the business model to other colleges.
"Starting this business has given me the chance to experiment with entrepreneurship, with taking an idea and seeing it through," Young said in the article.

It was as a member of the Hamilton's Entrepreneur Club in 2010 that Young began planning for Hillfresh. He was joined a year later by Geoff Ayers '11, Faton Begolli '13, Jack Dunn '12 and Matt Nudell '11. Young also raised the necessary capital from student investors, found a suitable laundry contractor and recruited the others to refine and execute the business plan.