Huffington Post Features Levitt Center Project
---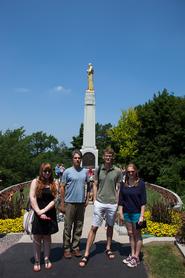 Huffington Post featured an article titled "Mormons, Anti-Mormons, and Anti-Anti-Mormons" co-authored by Visiting Associate Professor of Religious Studies Brent Plate and Hannah Grace O'Connell '14. The article also included several photos taken by Assistant Professor of Art Robert Knight.
The article resulted from a Levitt Center group project, co-directed by Plate and Knight and in which O'Connell and Alison Ritacco '14 are engaged this summer titled "Religious Spaces in Transition." This joint visual art/religious studies project involved an examination of the realities of religious life in the Utica and Clinton areas with a focus on how local religious institutions adapt to change.
Focused on a recent trip taken by the two professors and two students to Palmyra, N.Y., "Mormons, Anti-Mormons, and Anti-Anti-Mormons" described their experiences exploring and documenting the original sacred spaces of Mormonism. As the article detailed, "every July for the past 76 years, tens of thousands of people have descended on the area for the Hill Cumorah Pageant, a grand gala with over 600 performers who act out the ancient stories found in the Book of Mormon." Palmyra is considered the birthplace of the Latter Day Saint movement and Mormonism and where Joseph Smith, Jr. claimed he was visited by God and Jesus Christ in 1820 and where the Book of Mormon was first printed in 1830. The professors and students visited both the sites significant to the founding of Mormonism and the site where the pageant is performed.
Plate and O'Connell's article chronicled their encounters with the "anti-Mormons and the anti-anti-Mormons" during their visit to these sites. The writers concluded, "In the end we're left with a clash of opinions and stories. The debate surrounding religion that pushed Joseph Smith to seek for his own truth has proven to be equally prevalent and contentious at the Palmyra of today as it was close to two centuries ago."