Huffington Post Publishes Second Stewart Essay
---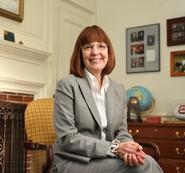 Opening with a discussion of Mr. Rogers' metaphor of the mind as a garden and lyrics from one of his songs on the importance of curiosity, President Joan Hinde Stewart addressed the purpose of education in her most recent Huffington Post blog. In "Minds and Gardens," posted on Aug. 8, Stewart wrote, "Those who see the value of college in the amount of money a graduate earns miss a fundamental point: The purpose of an education is not simply to make a better living but, by enlivening the mind, to make a life worth living.
"They miss as well the fact that the physical, intellectual and emotional delight of things well learned is incomparable -- the kind of delight that can make work into pleasure and into one of life's greatest satisfactions. They fail to understand the nourishing, sustaining value of the things that we plant in the garden of our minds."
Stewart discussed the role of teachers and classmates who, she wrote, "encourage and focus the curiosity that students bring with them, while helping them separate flimsy thinking from solid reasoning. They also help students learn to practice the Enlightenment values of toleration, compassion, science and courage, and to value research, history, and facts -- in other words, to hone the ability to judge, to write and to speak."
Her earlier essay on Huffington Post, "What Would Jean Valjean Do?," appeared on July 31. Both blogs appear on Huffington Post's College site.