Huffington Post Publishes Stewart Essay
---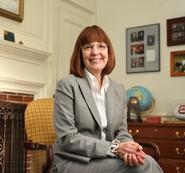 In an essay titled "What Would Jean Valjean Do?" and published on the Huffington Post, President Joan Hinde Stewart discussed "the transforming potential of individual example and community action" and "the redeeming value of great models, whether literary or historical." Stewart employed Victor Hugo's Les Misérables and the author's protagonist, Jean Valjean, as examples to illustrate these themes and to demonstrate how literary works from centuries past have relevance in today's society.
"They teach us what our society so needs to know about compassion, understanding and forgiveness," wrote Stewart. "They teach us what it means to be -- like Jean Valjean -- human beings with all our foibles and our immeasurable potential."
The essay was published on the publication's College site on July 27.