Ma Rainey's Black Bottom Plays to Full House
---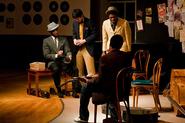 A production of Ma Rainey's Black Bottom, by August Wilson, played to a sold-out house in the Fillius Events Barn on Monday through Wednesday, January 18 -20, as part of Hamilton's Martin Luther King, Jr. Day celebration. The show is directed by Mark Cryer of Hamilton's Theatre Department. The production will be staged at Union College on Friday, Jan. 22, at 7 p.m.

Ma Rainey's Black Bottom is Wilson's first play in a 10-play cycle, each chronicling a decade in the African-American experience. Set in a Chicago recording studio in 1927, the two-act drama tells the story of a recording session with blues legend Ma Rainey, her band members, and the white producer and agent who made themselves wealthy through Rainey's recordings. The play explores race relations between blacks and whites in 1920s America and the African-American search for identity. The title comes from the song of the same name, which is at the heart of a major conflict in the play.

This story appeared in the February issue of eNews.