Mine Your Own Business Screening Nov. 8
---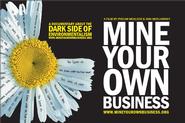 A screening and discussion of the documentary, Mine Your Own Business, will take place on Tuesday, Nov. 8, at 7:30 p.m. in the Kirner-Johnson Red Pit (127). Mine Your Own Business examines the controversial Rosia Montana mining project in Romania in 2007. The event is free and open to the public.
The film argues that the opposition to the project was unjust and narrow-minded, and that foreign environmental activists engage in anti-development campaigns that stagnate growth and keep people in poverty. The film seeks to dismantle the image of environmentalists as harmless, well-intentioned activists by showing how destructive foreign environmentalist campaigns can be to local, impoverished individuals. It follows the story of George, a 23-year-old unemployed miner from northern Romania whose life has been put on hold after a foreign anti-mining campaign halted development on the Rosia Montana project.
The screening is co-sponsored by the Alexander Hamilton Institute Undergraduate Fellows and the Hamilton Environmental Action Group.