New York Times Features Hamilton's Milton Marathon
---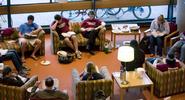 The New York Times featured Hamilton's marathon reading of John Milton's epic poem Paradise Lost in an article in the Education Life section of the Sunday, Jan. 9, edition. Orchestrated last spring by Elizabeth J. McCormack Professor of English Margaret Thickstun, the 12-hour Milton fest drew some 60 students, faculty and community members.
"Most of us became interested in reading because of being read to," said Thickstun in the article titled "'War and Peace' in 24 Hours." "These readings revive the notion that poetry is not a private, silent thing you do in a room with a piece of paper, but something you actually speak." Thickstun plans another marathon reading for this semester.
Hamilton alumnus Andy Richardson '10 was credited for the photograph of marathon readers included with the Times' article.