On The Hill Receives Arline Custer Memorial Award
---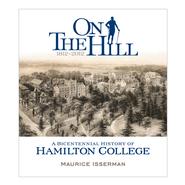 On the Hill: A Bicentennial History of Hamilton College, written by Publius Virgilius Rogers Professor of American History Maurice Isserman, received the 2012 Arline Custer Memorial Award for books from the Mid-Atlantic Regional Archives Conference (MARAC). The award was presented on Oct. 27 in Richmond, Va.
On the Hill follows the origins of Hamilton College and its interaction with local, regional and national history. The book details the college's inception by the Reverend Samuel Kirkland in 1793, to its N.Y. State charter in 1812, to its status as a top liberal arts college in the modern day. Isserman follows many of the faculty and students who have lived at Hamilton and created its vibrant community. On the Hill is the first history of Hamilton College written since 1962, and honors the school's bicentennial.
The Arline Custer Award for books honors the best books – typically archives, monographs, narratives and other reference works – written or compiled across Virginia, West Virginia, the District of Columbia, Delaware, Maryland, Pennsylvania, New Jersey and New York. The books must include historical information written well, impeccably researched, and presented clearly. Past winners include MICA: Making History/Making Art, published 2010 by Maryland Institute College of Arts and written by Douglas L. Frost, and The Good Education of Youth, published by Oak Noll Press and University of Pennsylvania Libraries 2009 and written by John H. Pollack.
On the Hill is now recognized as one of the most comprehensive and accessible historical narratives written in 2012.