Only A Game Airs College's Role in Goalie Mask Invention
---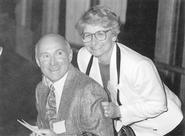 The nationally syndicated radio show
Only A Game
presented the
story of the introduction of the goalie mask in the NHL
and the role played by former Hamilton track coach Gene Long and former Hamilton hockey team goalie Don Spencer '59 on Saturday, Nov. 21. The radio show is "an award-winning weekly sports magazine … [it is] radio for the serious sports fan and the steadfast sports avoider," according to the producing public radio station WBUR in Boston.
In the Clinton area, the show can be heard on WRVO at 91.9 FM or on the
station's Web site
. Schedules for all public radio stations that broadcast the show can be found on the
Only A Game Web site.
Both Long and Spencer were interviewed about their roles in the creation of the mask. Long is the acknowledged creator of the prototype, and Spencer is the individual who brought Long's invention to the attention of the NHL goalie Jacques Plante.