Senior Art Show 2010 on Exhibit at Emerson Gallery
---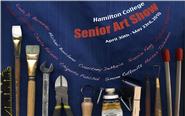 Senior Art Show 2010, a presentation of works created by 10 art majors, will open at the Emerson Gallery on Friday, April 30. An opening reception will be held from 4-6 p.m. The exhibition runs through Saturday, May 22, and is free and open to the public. Families of graduating seniors are invited to attend the graduation reception on May 22, from 1-3 p.m.

This year's exhibiting artists are Michael Bourbeau (Hampton, N.H.), Courtney DeMaria (Littleton, Mass.), Linda Di Bernardo (Pomona, N.Y.), Xiaoxin Feng (Clemson, S.C.), Victoria Hayssen (Bondville, Vt.), Eliana Miranda (Dallas, Tx.), Charlie Palanza (Crested Butte, Colo.), Chiquita Paschal (Philadelphia, Pa.), Simone Rutkowitz (New York, N.Y.) and Moises Toledano (Cambridge, Mass.).

The exhibition includes sculpture, photography, video, printmaking and painting. Objects on view range from a single piece to a body of work produced over the course of a year.

Xiaoxin Feng will exhibit works of large-scale figurative portraitures focusing on facial characteristics, skin tone, hair texture and expression. Visitors will also see a fiberglass, mesh and wood structure exploring themes of repetition in nature by Linda Di Bernardo and explore the outdoor installation of birds by Charlie Palanza. Also on view will be wearable art made of hair by Chiquita Paschal, video exploration of relationship experiences by Moises Toledano and contemporary celebrities painted in a Baroque style by Michael Bourbeau.