USA Today Credits Coach Gene Long for Hockey Mask Invention
---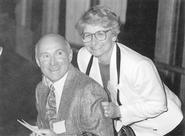 "Unmasking the real story of the man that revolutionized hockey,"
a
USA Today
article about the development of the hockey mask in the National Hockey League, features Hamilton's former track coach Gene Long and alumnus and former Hamilton hockey goalie Don Spencer '59. The story credits Long with the invention of the prototype for the mask and highlights Spencer's role as the individual who alerted famed NHL goaltender Jacques Plante to its existence 50 years ago.
The article quotes a member of the Society for International Hockey Research and a museum curator in Canada who credits Long for developing the prototype from which Plante had his mask, the first to be used in the NHL. The full story is explained in the article:
"Late in the 1958-59 season, Hamilton trainer and track coach Gene Long fashioned a mask out of fiberglass for Hamilton goalie Don Spencer after he suffered too many facial injuries. Long, now 80 and living in Bluffton, S.C., said the idea for the custom-fit mask came from work he had done in track to prevent heel trauma.
"'We started to use a custom-fit, fiberglass heel cup,' Long said. 'There is a tremendous amount of shock in converting horizontal to vertical momentum in the long jump. Theoretically, on a custom fit, the shock was distributed over the entire area.'
"Spencer's college season ended before he could use the mask in a game, but it was clear that the custom fit made the mask more desirable than other experimental versions. …
"That spring Spencer saw an article in
The New York Time
s in which Plante talked about his interest in wearing a mask, and Spencer sent him a letter. In that letter, Spencer mentioned that Long had used fiberglass to custom fit the design. ...
"In earlier interviews with Addis, Long recalled that he had given his fiberglass 'recipe' to whomever had asked for it. It's unknown whether Plante mask maker Bill Birchmore at Montreal Cil Plastics was one of the people who was given Long's directions for molding fiberglass masks.
"'We are willing to say that perhaps there were perhaps coincidental developments taking place,' Addis said. 'But in my research, I've never seen anything to suggest that Plante had a form-fitting mask before then.' …
"Addis says Long's original mask from the spring of 1959 and Plante's first mask — worn by the Montreal Canadiens goaltender in a Nov. 1, 1959, game after he was hit in the face by a shot from New York Rangers forward Andy Bathgate— are nearly identical."