USA Today Features Student-run HillFresh
---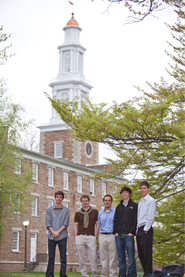 USA Today published a front-page article titled "Student businesses market to lazy college classmates" featuring HillFresh Laundry, the Hamilton-based service founded by Jeremy Young '13 and run by a small team of Hamilton students. The Aug. 28 piece focused on student entrepreneurial ventures that cater to student needs, from grocery shopping to laundry to shipping.
As a member of the Hamilton's Entrepreneur Club in 2010, Young developed a plan for the company and was joined a year later by Geoff Ayers '11, Faton Begolli '13, Jack Dunn '12 and Matt Nudell '11. Young also raised the necessary capital from student investors, found a suitable laundry contractor and recruited the others to refine and execute the business plan. Young still manages the day-to-day activities with Begolli.
"Our customers recognize the opportunity cost of doing their own laundry--they spend their time practicing with their varsity sports teams and/or one of the many societies, clubs and organizations on campus, and strive for top grades," said Young. "We believe our customers purchase this service to better manage their time in an increasingly competitive world."
Young reports that HillFresh has grown significantly since last year, and they expect this growth to continue each year for the next couple years.