USA Today Publishes O'Kelly '14 Story on Study Abroad
---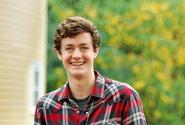 Daniel O'Kelly's article titled "4 study abroad hurdles" appeared on the USA Today College site on Aug. 6. O'Kelly '14 is interning this summer with the Study Abroad Team at Go Overseas and plans to study abroad in Paris this fall.

In his article, O'Kelly addressed the fears and concerns that sometimes stop students from considering studying in another country. He proposed possible solutions and recommended that students research programs carefully to ensure that they meet their needs and offer the credits necessary to graduate on time, enlist the aid of program directors to reassure worried parents and address their personal fears directly.
"From what others told me, living and learning by experience is at the heart of study abroad. Challenging yourself to make informed and impromptu decisions not only makes for good stories, but also for helpful lessons," wrote O'Kelly.
"The take away message: do not let academic or personal fears prevent you from studying abroad," he concluded. "The experience will help you gain insight into your career path, the community around you and yourself."

O'Kelly works for Tucker Hutchinson '07, marketing manager at Go Overseas.