Wall St. Journal Features Funded Interns
---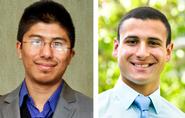 As part of the ongoing public discussion of paid and unpaid internships, a Wall Street Journal article, "Unpaid Internship? Some Colleges Pick Up the Tab," reported on colleges that provide students with funding for unpaid internships. Hamilton was highlighted in the article as well as another in the accompanying online report, "The Importance of Being an Intern," as offering funding to enable students to acquire career-related experiences. The June 19 pieces highlighted two students, Ujjwal Pradhan '15 and Nick Solano '14 and alumnus George Baker '74.
Pradhan is interning at Priority Capital Management, a money-management firm based in New York. Solano is interning at Washington, D.C., law firm Williams & Jensen.
As reported by the Journal, the College received 187 stipend applications this year, up from 116 last year, for unpaid positions in government, nonprofit and for-profit enterprises. Sixty-six students received funding.