Emerson Gallery Lends to Tate Britain
---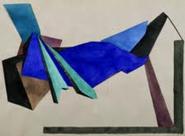 Works from Hamilton's art collection that were recently on view at the Peggy Guggenheim Collection in Venice are now part of an exhibition at Tate Britain in London. The Emerson Gallery lent four paintings by English artist Dorothy Shakespear (1886-1973), wife of Ezra Pound, Class of 1905, to the exhibition, the first attempt to recreate the three Vorticist exhibitions mounted during World War I in London and New York. Two of the Hamilton works have been prominently featured on the BBC's website and other English media outlets as well as in marketing materials.
The loaned pieces are from a collection donated to the College by Shakespear's son Omar Pound '51. The Vorticists: Manifesto for a Modern World opened on June 14 and closes on Sept. 4.
As described in the Guggenheim exhibition announcement, Vorticism takes its name from "Vortex," a term coined by the American expatriate poet Ezra Pound at end of 1913 when describing the "maximum energy" he and his colleagues wished to instill in London's literary and artistic avant-garde. It was an abstracted figurative style, combining machine-age forms and the energetic imagery suggested by a vortex, that emerged in London at a moment when the staid English art scene had been jolted by the advent of French Cubism and Italian Futurism. Vorticist artists absorbed visual elements from both, but also defined themselves against these foreign idioms. The movement was a short-lived, but pivotal modernist movement that essentially spanned the years from 1913 to 1918.

There is renewed interest in Vorticism and Hamilton's collections are contributing to new scholarship in the field. Last year the gallery lent a painting by Wyndham Lewis to the first retrospective of his work to be shown in Spain, and it will soon be lending a work by Dorothy Shakespear to another exhibition in Italy. It is a wonderful opportunity for the College to be included in this international dialog.

Both the Emerson Gallery and the Burke Library house significant works by Vorticist writers and artists including Ezra Pound, Dorothy Shakespear, Wyndham Lewis and Henri Gaudier-Brzeska. The College has a few joint collections like this, and they invite opportunities for students to study these subjects from multiple points of view.