Emerson Gallery Loans Painting to Madrid Museum
---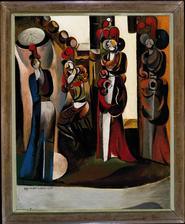 The Emerson Gallery is lending a painting by Percy Wyndham Lewis from its collection to Fundación Juan March, an art museum in Madrid, Spain, for Wyndham Lewis, 1882-1957. This exhibition, which opens on Feb. 5, brings together drawings and paintings by the British artist from across Europe and the United States. The loaned work was a gift to the gallery from Omar S. '51 and Elizabeth Pound.

Percy Wyndham Lewis is best known as a member of the British art, literary and intellectual avant garde. In 1914 he initiated Vorticism, a literary and artistic movement inspired by French Cubism and Italian Futurism that sought to revitalize English art. The term "Vorticism" was coined by Ezra Pound '05, P'51 who also articulated the movement's theoretical basis. Pound conceived of a vortex as a whirlpool of human imagination and potentialities: "the point of maximum energy" and Vorticism sought to capture the moment the vortex is most charged. Vorticist artists combined machine age forms with imagery that suggested the energy of the vortex. The First World War brought an end to the brief but influential movement and took the lives of two of its key members, artist Henri Gaudier-Brzeska and poet T.E. Hulme.

Thanks to the generosity of Omar S. '51 and Elizabeth Pound, the Emerson Gallery has a significant collection of works by Wyndham Lewis and other Vorticist artists including Henri Gaudier-Brzeska and Dorothy Shakespeare P'51, Ezra Pound's wife.

Reflecting on the Pounds' generosity, Emerson Gallery Associate Director and Curator Susanna White said, "I remember when she (Elizabeth Pound) gave us two very important works by Henri Gaudier-Breszka. She remarked that as a young girl everything she learned about art came from visiting museums and she felt it important that others get the same opportunity. As someone who did not grow up with art in the home, her comment resonated with me."

Later this year, the Emerson will be lending several works by Shakespear to Vorticism in London and New York, 1914-1918, which will be the first major Vorticist exhibition shown in the United States. It will be on view at the Nasher Museum of Art at Duke University in fall 2010 before traveling to the Peggy Guggenheim Collection, Venice, and Tate Britain in London.