Emerson Gallery Presents In Art We Trust: Senior Art Show 2012
---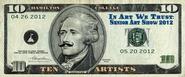 In Art We Trust: Senior Art Show 2012, a presentation of works by 10 graduating art majors, will open at the Bristol Center Hub on Thursday, April 26. The exhibition includes photography, illustration, painting, mixed media and sculpture. An opening reception will be held Thursday, April 26, from 4-6 p.m., at Bristol Center. The show will close on Sunday, May 20. There will be a closing reception on Saturday, May 19, from 1-3 p.m., at Bristol Center. The exhibition and both receptions are free and open to the public.
Seniors whose work will be on display in the exhibit include Shawon Akanda (Bronx, N.Y.), Holly Bailey (Gwynedd, Pa.), James Grebey (Stamford, Conn.), Kelsey Hiscano (Basking Ridge, N.J.), Marika Paras (Berkeley Heights, N.J.), John D. Powell (Clinton, N.Y.), Perry Ryan (Westmount, Quebec), Asya Snejnevski (Washington, D.C.), Mary Swartwout (New Hartford, N.Y.) and Antonia Villa (Peapack, N.J.).
The exhibition features a wide range of artwork addressing themes such as gender roles, identity and transformation. Works include installations of found everyday objects manipulated by Mary Swartwout and reconstructed objects both displayed and photographed by Asya Snejnevski. Antonia Villa will exhibit photography connecting geometry and our physical environment and Holly Bailey will exhibit colorful portraitures on canvas. John Powell will exhibit a multifaceted interactive installation that studies increasing trends in male and female role reversal in the nuclear family.
Gallery hours are Monday through Friday 11 a.m.-6 p.m. and Saturday & Sunday from 1-5 p.m. For more information, including accessibility and parking, please contact the Emerson Gallery at 315-859-4396, or visit our website at www.hamilton.edu/gallery.