Emerson Gallery Presents Exhibitions on Art and Religion
---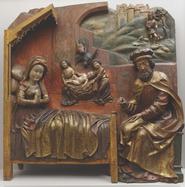 The Emerson Gallery will present a trio of exhibitions that examine definitions of religious art, what makes images religious and what happens when objects leave an artist's studio or their spiritual context and become "property" of the community. The exhibitions will be on view Sept. 13 – Jan. 2 and will feature a range of works from different cultures and historic periods, including works from the Emerson Gallery collection and the Burke Library special collections.

An opening reception for the three exhibitions will be held on Tuesday, Sept. 14, at 4:15 p.m. Several other special events will be presented in association with the exhibitions. The exhibitions and related programs are free and open to the public.

On Oct. 4-6, Tibetan monks from the Gaden Shartse Monestary in Southern India will ritualistically create and destroy a sand mandala. This ancient tradition is a reminder of the Buddhist concept of impermanence. The entire process can be viewed at http://150.209.7.24/view/viewer_index.shtml?id=106
Monday, Oct. 4, 9:00 a.m., Emerson Gallery
Opening Ceremony and Cultural Performance of Sacred Dance and Chanting
Monday, Oct. 4, 10:00 a.m. – 6:00 p.m., Emerson Gallery
Sand Mandala Creation
Tuesday, Oct. 5, 8:30 a.m. – 6:00 p.m., Emerson Gallery
Sand Mandala Creation
Wednesday, Oct. 6, 8:30 a.m. – 4:30 p.m., Emerson Gallery
Sand Mandala Creation
Wednesday, Oct. 6, 4:30 p.m., Emerson Gallery
Mandala Dissolution Ceremony

Upon completion of the mandala there will be a special ritual to bless the mandala and it will be ritually dissolved. As a lesson in impermanence, the blessed sand is swept up into a pile. Small portions are offered to those present. The rest of the sand is taken to a body of water where, after a short ceremony, it is poured into the water to bless and purify the surrounding environment and all sentient beings living there. This ceremony will begin at the Emerson Gallery and proceed to the waters of the Root Glen.

Sally Promey, professor of American studies and religious studies and deputy director of the Institute of Sacred Music at Yale University, will present a Humanities Forum Lecture titled "Always a Golden Calf: Materialities and Sensational Religions in 'Secular' Modernity" on Thursday, Oct. 7, at 4:10 p.m. in the Science Center's Kennedy Auditorium.

There will be two gallery talks in October at the Emerson Gallery. The first, "Stations: Religion as Art, Art as Religion" with Visiting Associate Professor of Religious Studies S. Brent Rodriguez Plate, will take place on Saturday, Oct. 9, at 1:30 p.m. Associate Director and Curator Susanna White and Curator of Special Collections & Archives Christian Goodwillie will discuss "Revelations: Images from The House of David and Mary's City of David Collection at Hamilton College" on Saturday, Oct. 30, at 3 p.m.

Plate will also present a Humanities Forum Lecture, "Blasphemous Art and Secular Media" on Thursday, Dec. 2 at 4:10 p.m. in the Kennedy Auditorium.

Gallery hours are Monday through Friday 10 a.m. to 4 p.m. and Saturday and Sunday from 1 to 5 p.m. For information on parking and wheelchair accessibility, contact the gallery at 315-859-4396 or at the gallery's Web site www.hamilton.edu/gallery.