Emerson Gallery Presents Three Exhibitions
---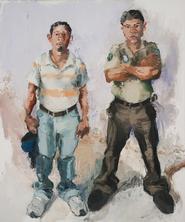 A trio of exhibitions that feature eccentric views of men and women opens on Monday, Jan.17, in the Emerson Gallery. On view through April 3, they include paintings, drawings and photography. The exhibitions and associated events are free and open to the public.
• John Sonsini: Men is an exhibition of paintings and drawings of seemingly straightforward portraits of Latino day laborers living in Los Angeles created by Rome, N.Y., native John Sonsini. Who these men are and how Sonsini painted them makes for a powerful combination. This is Sonsini's first exhibition in the region.
• Andy Warhol: Polaroids features a series of never-before exhibited portraits by the artist. Warhol often used polaroid photographs as a first step in making silkscreens which led to paintings. The images reveal how the limitations of the Polaroid camera infused the look of his work in all media. The images of celebrities, artists and friends reveal an intimacy not usually found in Pop Art.
• Garry Winogrand: Women are Beautiful presents a selection of photographs from the Emerson Gallery collection. A leading street photographer in the 1960s and 1970s, Winogrand produced a series of compelling photographs. Through the artist's lens, these images emphasize the new visibility of women during this era and reveal rapidly shifting notions of femininity.

An opening reception for the three exhibitions will be held on Wednesday, Jan. 26, at 4:15 p.m.
SPECIAL EVENTS:

Opening reception and gallery conversation with artist John Sonsini
Wednesday, Jan. 26, 4:15 – 6:30 p.m.
Emerson Gallery
Screening and discussion of David Wojnarowicz's film A Fire In My Belly
Wednesday, Feb. 23, 5:00 p.m.
Kirner-Johnson Building 127 (Red Pit)
Following the screening of A Fire in My Belly, there will be a panel discussion about this film that was recently removed from an exhibition at the National Portrait Gallery.
The Emerson Gallery is located in the Christian A. Johnson Hall, directly behind the Chapel. Gallery hours are Monday through Friday 10 a.m. to 4 p.m. and Saturday and Sunday from 1 to 5 p.m. For information on parking and wheelchair accessibility, contact the gallery at 315-859-4396 or at the gallery's Web site www.hamilton.edu/gallery.