Emerson Gallery Showcases Political Cartoonist
---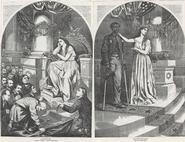 In the weeks immediately following the November 2002 mid-term elections, an exhibition of the works of 19th-century political cartoonist Thomas Nast seems perfectly timed. Unlike today's cartoonists, Nast wielded enormous political power through several decades in the mid to late 1800s, making or breaking the campaigns of politicians via his satirical cartoons published in Harper's Weekly.
Hamilton College's Emerson Gallery is hosting this exhibition of more than 130 black and white prints created by Nast and titled "America in Black and White" from November 15 through January 5. Nast attacked corruption, made and unmade politicians and practically set the agenda for the country. The fact that every presidential candidate whom he supported while at Harper's Weekly won was not lost upon those who were considering a run for the office. President Ulysses S. Grant said, "Two things elected me, the sword of Sheridan and the pencil of Nast." President Lincoln suggested that Nast had been the Union army's best recruiter.
Nast was active during one of the most critical periods in American history, the Civil War and the era of Reconstruction that followed. Although he was concerned with many issues, his central focus was on liberty and justice for all and, in particular, the relationship between blacks and whites. Nast is also credited with being the artist who created the images with which we still visually define Uncle Sam, Santa Claus, the Republican elephant and the Democratic donkey. He illustrated and commented on the world in Harper's Weekly from 1862 until 1886.
Although he did some painting, particularly of historical figures, his essential medium was black and white woodblock engraving on newsprint. With only one exception, this retrospective exhibit will feature his black and white creations, especially those from Harper's Weekly.
On Friday, November 15, at 4:30 pm, the exhibition will open with a lecture by Jay Williams, The Walcott-Bartlett Professor of Religious Studies at Hamilton College, in the Chapel. Williams is a long-time collector of Nast prints, and this exhibition is made up primarily of prints from his private collection. His lecture, "Deciphering Nast," will focus on the translation of the devices and pictorial vocabulary that Nast employed in describing the politics of his era. A reception will follow from 5:30 to 6:30 p.m. in the gallery.
Steve Brodner, a satirical illustrator, will speak on his profession in conjunction with the exhibition on Thursday, December 5, at 8 p.m. His presentation in the Chemistry Auditorium will be followed by a reception in the gallery. Brodner began his freelance career with illustration assignments for the New York Times Book Review and has since been a regular contributor to Harper's Magazine, National Lampoon, Sports Illustrated, Progressive, and the Village Voice, among many other publications. His cartoons are a regular feature in The Nation.
All events are free and open to the public. The Emerson Gallery is located on the Hamilton College campus in Clinton, New York, in Christian Johnson Hall (located directly behind the Chapel). Gallery hours are, Monday through Friday, 10 a.m. to 5 p.m. and, on Saturday and Sunday, from 1 to 5 p.m. For information, call (315) 859-4396.