Levitt Weaving Project Expands at Refugee Center
---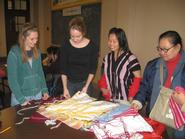 Having proven herself as a Bonner Leader working with the Mohawk Valley Resource Center for Refugees,
Emily Powell '09 was awarded
$1,000 as part of the CASE Foundation Grant last January to fund The Weaving Project at the center. The success of the initial project assisted the Mohawk Valley Resource Center for Refugees in securing additional funding to expand the undertaking. The project was begun through the Levitt Center and coordinated with a Women's Studies course in Global Feminism by Associate Director for Community Research Judy Owens-Manley.
The program has provided funds for weaving supplies and helped Burmese and Karen refugee women - many of whom have weaving experience - utilize their skills. The goal is to enable the women to become able to support their families financially.
The initial $1,000 grant was spent on thread from Thailand, storage boxes, construction of the looms, hand tools, labor, and postage. The Levitt Center continued its engagement in the project by funding a
summer intern, Travis Mockler
'11, to work full-time on the Weaving Project for 10 weeks. Since Powell graduated in May 2009, this enabled the project to go forward without her personal hand in its completion.
In October, the Refugee Center was awarded a grant of $55,000 through Lutheran Immigration Refugee Services to establish a Refugee Weaver's Guild Microenterprise Project. The project will incorporate "the traditional fine arts skills of Burmese and Karen women that will address economic self-sufficiency, integration issues, create a social network for women in the refugee community, and most importantly preserve the rich cultural tradition of weaving."
The Refugee Center credits Hamilton College in the proposal with the original concept of the project and the start-up funds provided by the Case Foundation grant. The work that Powell did through the CASE grant and through Hamilton was instrumental in the Refugee Center receiving the LIRS grant. The Refugee Center expects the new funding to result in:
· Increased employment opportunities for Burmese/Karen refugee women.
· Increased capacity of refugee women and their families to achieve self-sufficiency.
· Enhanced employability skills for participants of the project.
Speaking of her experience, Powell explains, "I learned so much from the women we worked with, about their culture and their identity as refugee women. I definitely learned about the looms and the role that plays in their culture," she said, "but more interesting for me was how they conducted themselves in our meetings, which was always with a tremendous amount of respect and gratitude and also humility. . . I think this description speaks to the self-perceptions of many refugee women transitioning to a country where gender roles are perhaps different than they were in their homeland."
The Bonner Leaders Program is based on civic engagement where students spend 240 hours volunteering at their chosen service sites. It is part of the Bonner Foundation commitment to "intentional opportunities for students to develop as thoughtful, engaged citizens of our national and global community." (www.bonner.org).