Winter Break Energy Reduction Is Impressive
---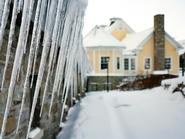 For 11 days, from Dec 20 to Jan 5, the campus was closed and opportunities for energy conservation were plentiful. Physical Plant lowered building temperatures (with the exception of the Science Building, Christian A. Johnson Building, Burke Library, Siuda House and the Sadove Student Center), conserving natural gas and electricity. Employees and students closed and latched windows, turned down thermostats, lowered blinds, unplugged power strips and battery charging devices, and turned off computers, monitors and refrigerators.

The results: Hamilton saved 93,600 kilowatt-hours in the 26 buildings shown on Hamilton's Energy Dashboard. To observe the savings, click on the "competition" tab. The dashboard will show savings each building achieves through Jan. 14, the period in which the majority of students are off campus.

The estimated savings in electrical energy for all campus buildings for the first 11 days totaled 146,100 kilowatt-hours, which represents a 6.1 percent reduction in use for December. This is an equivalent reduction in carbon emissions of 52.4 metric tons or 5,894 gallons of gasoline consumed. If your car or truck has a 20 mpg average, this would equal a driving distance of 117,880 miles.