Writer-in-Residence Terrance Hayes Challenges Students, Urges Them to Take Risks
---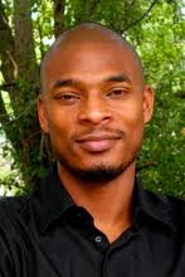 The Hamilton English and Creative Writing community was privileged this week to have a visit from 2011 spring writer-in-residence Terrance Hayes. Hayes, an acclaimed author of four collections of poetry—Hip Logic, Muscular Music, Wind in a Box and Lighthead—is a professor of creative writing at Carnegie Mellon University.
On Wednesday, Hayes held an open workshop, "Reading to Write" in the Days-Massolo Center. Hayes led students and faculty members in discussions of three pairs of poems, and challenged them to come up with poems of their own that mimicked the styles and themes of one of the pairs. Imitation, according to Hayes, is a way for a writer to step out of his or her comfortable writing style. Only by taking risks, he said, can writers explore all that they are capable of creating.
Members of the two senior seminars in creative writing, taught by Professor of English and Creative Writing Naomi Guttman and Visiting Assistant Professor of English Jane Springer, spent three hours with Hayes on Thursday afternoon in an extended workshop in the Molly Root House.
Hayes presented students with a packet of poems varying stylistically from extended narratives to abstract sound poems. He challenged students to try to create either an extended sentence narrative poem or sound poem of their own. After a writing period, Hayes led the students in a discussion of their own work.
"Having Terrance Hayes in class with us was an invaluable experience," said Marika Paras '12. "He is one of my favorite poets, and I never thought I would get to work with him."
"Once I got over being star-struck," confessed Lindsay Kruse '12, "I was really able to use the workshop to push my personal boundaries as a writer."
Hayes' visit culminated in a poetry reading in the Dwight Lounge in Bristol Center. Hayes read work from Wind in a Box and Lighthead, as well as several new, unpublished poems. Each of Hayes' poems was accompanied by an explanation of the context in which it was written.
Grace Belkot '12 enjoyed the light atmosphere of the reading. "It was very congenial among friends and classmates—a chance to explore the spoken word in an enthusiastically receptive environment."