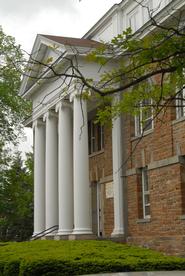 English Faculty Participate in Conference at LeMoyne College
Four faculty members of the Hamilton College English department delivered papers at the Return of the Text conference organized by the LeMoyne College Religion and Literature Forum on Sept. 28-29. This conference was co-sponsored by Hamilton's English Department.
Addressing the "Cultural Value of Close Reading," Professor Onno Oerlemans delivered a paper titled "Close Reading the Bird/Poem"; Visiting Assistant Professor Benj Widiss presented "Progressive Stasis: David Gordon Green's 'George Washington'; Professor Naomi Guttman delivered a paper titled, "'If You Really Look': Gaps, Graphs, and Meaning in Jennifer Egan's 'Great Pauses in Rock and Roll'"; and Visiting Assistant Professor Christiane Gannon gave a paper asking, "Can Close Reading be Democratic?"